Location of the 2013 US National Rainbow Gathering in Montana.
I have been so incredibly busy this summer I have almost completely forgot about my blog! Such are the great joys of traveling across country! As I find myself sitting here typing about what all I have done and seen, I'm actually having trouble trying to put all of it on here do to so much happening. If anything shall come to mind after I have posted this entry, I will make sure to update it frequently as possible. But in something resembling a nut shell, here is my awesome vagabond hobo of a year! Enjoy!
MARCH 2013- CHICAGO.PT2
After an extended stay in Chicago as a moneyless traveler, I decided I wanted more! My good friend Phil Maughmer and myself took the liberty to hitch a semi ride north west from Fort Wayne Indiana into the windy city. During a snow storm! Hard and cold the journey was, but well worth the experience. We made an attempt to meet up with our friend Daniel Suelo who was on the Lakota Solidarity Tour at the time, but we missed our opportunity at that time, which was OK! Simply because, there is always next time ;)
As for traveling in Chicago, if you get the chance, give it a try! It isn't for everyone though. Like I said, it's very tough physically and very difficult on the psyche. We found shelter in the midst of cardboard only dumpsters to be the most fulfilling whilst sleeping out in the blizzards. Shelter under pines worked well for me too! Finding a train to hop in the area is super super easy as well! The only problem-
trying to determine where one of the numerous railways will take you...
APRIL 2013- FORT WAYNE / NEW HAVEN
After a wild adventure in Chicago, I managed to get a ride back into Indiana through a friend that travels through the Skokie Illinois area. After returning, I took a break from any extended traveling. I got a clean shave and a haircut too! It may not seem like much to most people, but after traveling and living in the woods and streets, all you have to look forward to in life is the little things, and they never seem as as big as they do until you have done without. Simple appreciation trumps all! What more do we need anyways???...


Of course after returning I had to meet up with friends and family to talk about my experiences from last year and early this year! My friends Jason, Tyler, Doug, and my cousins Shane and Justin all excepted my company with open arms! (and of course offered multiple servings of beer and liquor lol!)
But after biking around and visiting people here in Allen County, I started getting road sick. Out of the blue I get a message from my friend Daniel Suelo asking me to join him in the moneyless tribe he was putting together. How could I refuse? Fellow travelers all in one group? whats not to like! Besides, he informed me Phil would be joining us on our journey! Plus, I had my heart set on meeting my friend Summer Fields some time in the future, and it turned out she would be attending the 2013 National Rainbow Gathering in Montana- where the tribe was assembling! I left Indiana asap.
MAY 2013- MILWAUKEE
I arrived in Milwaukee at night after traveling through very horrible lightning/tornado laden weather. Milwaukee had not one trace of ill weather! I as very happy to find this, and even more happy to find Phil at peace with life more than ever. The stay with his family and friends was such a great delight, and as always, his infant nephew provided days of entertainment and joy for anyone around him!
His family has a place directly on lake Michigan.
With having such a beautiful wonder so close, it could of been a crime not to do some tai chi, yoga, and sun bathing on the beach before we left!
We traveled out of Wisconsin early in the morning, through Madison, through Minneapolis, all the way into Fargo North Dakota- all in one day! A quiet night yes, but an eventful morning is yet to come!
THEODORE ROOSEVELT NATIONAL PARK
Feral Buffalo- Living as nature intended.
The most memorable stop we made in
North Dakota!
JUNE 2013- BILLINGS
After prying ourselves away from the natural beauty that is found in North Dakota, Phil and I were off to find our good friend Suelo. As we were just randomly walking around downtown Billings,MT- we randomly ran into him! It was meant to be from that point on! I found us place to set up camp called Mystic Park on the east side of Billings, right on the Yellow Stone River! Perfect for the filming that was ready to be taking place. Suelo was filmed by a BBC show featuring Karl Pilkington (An Idiot Abroad/The
Moaning of Life).
Watch the episode here with Suelo and Karl!
Before filming I met up with some hitch hikers who were also going to The Rainbow Gathering and invited them to our camp, and they accepted! Ashley Parrish and Matthew Teague were great and exciting company! By this time Phil decided to go back to Milwaukee. After the filming was done we got to really check out the city of Billings, and all in all, it was an amazing stay. After many great freegan meals and many swimming sessions in the river, it was time to head west. Towards Rainbow Land!
NATIONAL RAINBOW GATHERING 2013- BEAVERHEAD DEERLODGE
More Information and Pictures can be seen here:
Chuck Manley
2013 National- My first Rainbow Gathering. I don't even know where to begin here. I guess Love, joy, kindness, giving, sharing, and peace are all wrapped up and distributed at this one event. After arriving, we spent about a week just enjoying ourselves. Even more so than usual! It was like being on a vacation away from our perpetual vacationing state folks like us live in. I got to play music with random people on a regular basis. You never know when someone is going to just start playing at gatherings! Very healthy and tasty food is in abundance at the gathering's kitchens and daily food circle. Everyday is like eating a meal with origins of far far away lands. You can't go anywhere at a gathering without making a connection with someone.
A week, or two, I can't even remember how long it was before the tribe started to assemble. Time just seemed to sit still. In a way, I didn't want it to end! As people started showing up to the moneyless tribe camp, I knew the journey ahead was going to be an even greater one, and all at once, I was at peace.
During a meeting we were having at the money tribe camp, Summer found her way to us! I was never more the happier. Once people started showing up, we helped everyone set up camp on our hill then fed them.
Hesna and Suelo!
We were preparing to walk over 100 miles from Beaverhead Deerlodge all the way to Missoula,MT- entirely moneyless, partly while being filmed by Daniel Suelo's Hungarian friend Hesna Al Ghaoui, along with Erwin and Adam. Friends of hers! Here you can find more information on her war coverage and documentary works:
https://www.facebook.com/aghesna
JULY 2013- AS WE HEAD OUT ON AN INCREDIBLE JOURNEY NORTH!
LEFT TO RIGHT: Mika, Brandon, Javier, Me, Suelo, and Summer.
The entire journey took 16 days to complete. We walked out of the rainbow gathering in the early morning into and through Jackson Montana (12 Miles) were we were harassed by the Beaverhead County Sheriff's Sergeant Dan Mulkey, for well, being associated with rainbow gathering, even though we aren't technically even "Rainbows". After about 5 grueling hours of being grilled, schooled, harassed, and even threatened to confiscate any recording equipment that may have been active, we went on our marry little way, only to be cut short and forced to abandon our efforts- spending the cold night in a mosquito infested cattle/roadside drainage ditch. My ass and legs and feet were cold and wet before I could ever fall asleep. After walking another 25 miles into Wisdom Montana, we found a park with a nice shelter to sleep in. Plus a pump well with cold drinking water! But after we got all nice and settled in, of course, Mr. Murky Mulkey the baconator came to coral up us crispy critters and our space cadet by threatening us with jail do to our hippy and pinko commie ways. But after mocking him back and convincing him we were just passing through, he left to go back to his mud pit, and well, we did what we were gonna anyways. Live free, and enjoy our freegan supper.
Patriot Jesus Soldier Dan Mulkey testifies in the court of law why he killed all of those Native Indians,
Homeless Hitch Hikers, and Rainbow Family Anti-Capitalist Terrorists.
After evading Captain America, we walked on the beautiful continental divide highway 93. I don't think I have ever felt so at peace, yet, felt so challenged at the same time. We camped by the rest stop on the 93, down in this little cove oasis with amazing mossy trees and a spring with water so fresh, we just drank it right out of the pool. Here is a link to the exact location! :
HW93 Oasis
We continued north and finally made it into Sula, where we were tired. Luckily, an older ex-hitch hiker living in a camper on property behind the fire station named JP let us camp down by his river! His friends Joe and James came down to greet us with freeze dried food! Perfect for carrying ;)
Beautiful Sula Montana. Watch for rattle snakes though!
After leaving, and after a nice swim at a fishing bridge on the way to Darby, Joe and James stoped and gave us a 5 mile lift into town via truck! We camped behind an LDS church, were we would be attending a service to see if anyone needed any tasks completed, which we would of done for free! They were so kind as to give us an abundance of food for our trip, which we were very grateful for. After leaving the town, one of the church members was passing us by out in the wilderness and filled up our water containers and brought us coffee cake!!! I forgot to mention, a little ways before, we found a crazy amount of frozen fish and veggies in the trash at a random construction site, which we promptly cooked and scarfed down near the Sula Ranger Station wetlands. The feds were kind enough to come down and poke around in our business of course!
After many many more miles we made it to Hamilton, were the library staff was so amazing. The only problem we had was the over fed law enforcement officers running us out of the park we were sleeping in. since when have parks been labeled as "private fuckin prop a' tah"????? No bothers though, off to Stephensville mission we go! ...only to be harassed by more bacon in a black burger king char broiled suv with cherries and berries on top. They seem to never understand, if we needed your help, we would ask.
Once we get to the historic catholic mission in town, it changed. The people were so kind. They tried to give us hundreds of dollars, but we refused every bit of it! We even helped them take down the shelters used to contain the show that was taking place in honor of a priest that came from Italy back in the day to help the natives since they were murdered and ravaged by the whites in the area. We left there with Elk, Moose, and Mountain Lion meat gifted to us by a member of the church! How delicious it was over an open camp fire. We even managed to find ice cream and bananas as a snack! Father Ravalli, Ravalli county, its all starting to make sense now! I even managed to eat Ravioli in Ravalli county, which was a treat! Why? Ask Suelo!
I was here.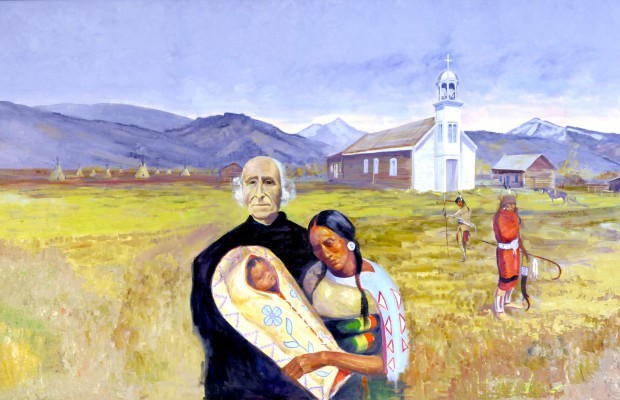 I seen this painting, along with artifacts like bows, clothes, and Christian relics.
After passing through Florence, Victor, Lolo, after many more river swims, dumpster dives, camps on rivers by rail road tracks, and after following walk ways and rail road tracks by night, we found our way into Missoula. A super easy city to tramp around in fyi. We camped down by the river, near the university. Many other travelers and homeless were occupying the Kim Williams Nature trail bushes. The most memorable was a guy named Hobbit who has been protesting against the police who have been trying to force them out for years. His cheerfully solemn attitude kept me entertained and laughing long after Summer and I hitch hiked out of Missoula, through Coeur d'Alene, and into the amazing city of Spokane Washington!
Missoula! Best seen while pushing your gear through the streets in a "borrowed" shopping cart! lol
Coeur d'Alene- We quickly passed through here. Wish we could have stayed.
Spokane Washington's Beautiful Firework Orchestra!
After a very kind fellow named Mark Rhodes picked us up is Montana. He took us along the 90 and let us out at a truck stop past Spokane where a bunch of travelers were stuck! Some were there for almost two weeks! Luckily, we got a ride back into Spokane the very next day! we made it into town in time for a fire work orchestra. The park was amazing here and so are the people. Very generous! After a wonderful and short stay, we were on our way into Seattle, quickly through Olympia, Vancouver, then Portland Oregon!
AUGUST 2013- PORTLAND!!!
Hipster or Homeless? You decide!
So after a quick tramp in Portland, where we ate with the generous people (Tyler Whitney, you know who you are) of Food not Bombs! Portland is super easy to tramp in, but be ready for competition. Portland should be named Vagabond City!!! Many travelers and homeless are here, so be ready to make new friends! Blanchet House is a good place to start ;) My next journey would lead me to reside on a small independent farm near Yacolt Washington.
SEPTEMBER 2013-THE FARMVILLES AND FORESTLANDS
Moulton Falls Bridge- Yacolt Washington
The Moulton Falls Themselves!
Living in a camper and messing with farm work is pretty fun stuff. I got to help build a barn, tend to a goat, tend to chickens, tend to large livestock, buck hay, and even help with gardening. I also got to brush up on my primitive living skills through reading and practice! After many adventures through the falls and Gifford Pinchot Forest, I packed up and left quietly one morning, catching a ride near the falls by a New Yorker named Victor, leaving behind many great friends on the farm and in Battle Ground Washington. You all are greatly missed...
OCTOBER 2013- MIDWEST > SOUTHWEST
Back to the midwest to tough out the wintry snow to come.
Once we made it back into Portland, we hitched a ride by a woman named Scout Coodley, who was going into Cleveland Ohio. She took us through Oregon, where we got to see many beautiful falls and scenery. We traveled all the way through Idaho, Utah, and Wyoming's deserts. On day 3, and through many heavy storms, we were through and into the cornfields of Nebraska, Iowa, Illinois, and Indiana.
Why did I choose to go back to the cold and soon to be snowy midwest over San Francisco or San Diego? Endurance. Stamina. Health. Discipline. I enjoy surviving in extremely horrible and cold weather. It's truly how one can become a demi god of sorts. Having a lot of money can buy you things, give you sway and power in the systematic world, but the power gained through these challenges and the endurance training give you not only strength and health, but mental clarity. Confidence. Oneness.
The stock market? 401k? Car payments? Gov't Insurance? Ha. Give me a fuckin break. I'm a wanderer.
I'll see you in the South West. AFTER the thaw...